July 30, 2021
Earn Money by Playing Games: how to do capitalize in your passion?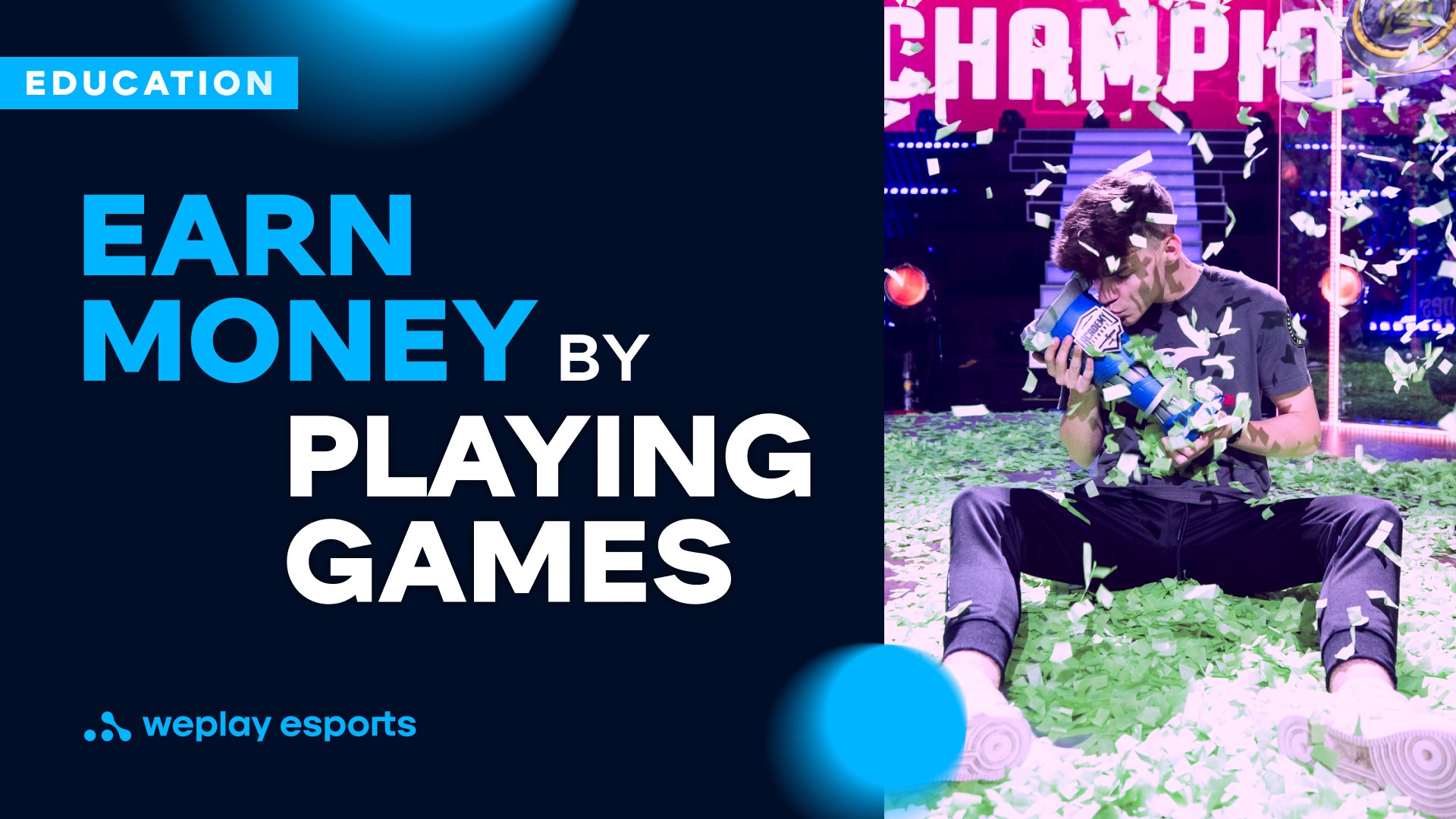 As the video game industry grows, there's a real market out there for hiring gamers. Previously, this entertainment medium wasn't taken very seriously by mainstream culture. However, the esports industry has helped integrate video games and turn the scene into a multi-million dollar industry.
So how can you get involved in that and make money playing games?
All Jobs for Video Game Players
There is a surprisingly wide variety of jobs out there for gamers. If you want to focus on jobs where you actively play video games, you could become a game tester for a gaming company, a streamer, or an esports pro.
For more casual gamers, though, you could settle for a job in esports casting, production, journalism, development, event planning, or something similar. For some people, just being involved in the video game world is more than enough.
There has to be a way to earn money and still have fun playing video games from the comfort of your home, right?
Not Just Esports
You can make money playing games and not be a pro, though. There are apps out there right now that pay people to play games for them. Some of them are simple games and marketing research tools, while others will ask players to test full-out games. Think of the work as a mobile game tester.
Now, here's a quick, short disclaimer: while most of these apps as you to earn money playing games online, they also might pay you for taking surveys, watching videos, etc.
What apps pay you real money to play games?
There are a decent handful of games that pay people to play games for them. These apps all have different ways of going about it and paying their players, but they are all viable options.
Swagbucks
One of the most well-known paid-to-play apps, gamers can play Swagbucks on their iPhone and Android apps. You can also play on their site. You can earn roughly $2-$4 per hour when you play and get a $5 bonus to start. Luckily, most games don't cost anything to play. However, some do have entry costs. Swagbucks pays through Paypal, but you can get merchandise and gift cards, too.
MyPoints
When you join MyPoints, you get the best bonus of all the top sites- $10. Much like Swagbucks, there are apps for IOS, Android, and their MyPoints site. All games are free to play, and if you play for a while, you can earn $2-$4 in an hour. Make sure to have a Paypal account if you use them because MyPoints typically pays through Paypal and gift cards.
Mistplay
Mistplay is a widely popular paid-to-play app, and for good reason. They offer the best rates at $3-$5 per hour of playtime and its games are free to play. Unfortunately, players can only play Mistplay on Android devices. If you like gift cards, Mistplay is the app of your dreams because that's how the site pays you.
Publisher's Clearing House
Known for their lottery checks, PCH also has an app where people can earn money—using their iPhone or Android app or PCH.com. Unlike many of the other apps where payment can be estimated, PCH's system is too variable. They do pay in cash rewards and gift cards, though. Plus side, the games are free to play, so there isn't any sort of risk associated with it.
Long Game
Long Game has you play games and plan your finances to help you be more economically prepared. It's available for your iPhone or Android device. The games are free, and it's inconsistent how much you can earn, but at least your earn in cash deposits to your savings account.
Givling
For the frugal college student, Givling is probably the best app for you. Players can get paid in payments toward their student loans, after all. However, don't plan out how much money you'll earn because the money is quite variable. Also, the app doesn't encourage gaming binges. It costs $.50 per play after you've played two games in one day.
Earn Money by Playing Games with Paypal
As far as the top pay-to-game apps go, both Swagbucks and MyPoints pay you by using Paypal. Many of the top paid-to-play apps use Paypal as a way to cash out their players. It's an easy way to get money from the app to your bank, so don't be afraid to get an account and collect as much app money as you can! Many different video game apps and other online purchases let you pay with Paypal, too, so even if you leave your money in Paypal, it can still be super helpful for storing your extra cash.
Earn Money by Playing Games on Android
While a few of these games are multi-platform, all of them are on Android. Android is a straightforward coding and app system to work with, so gamers with Android devices will have the easiest time getting paid for playing mobile games. Just download any of the apps mentioned above or any others you might find on the Android app store.
Which Game is Best for Earning Money?
Even though there are many plus sides to all of these games, Mistplay is easily the best. Everything is free, and it pays the most. For a simple 2-10 minute game, you can win up to $0.66 per game. You can cash out as early as $5 and have all the gift cards for Amazon, Steam, etc., that you've ever wanted in your email inbox within 48 hours.
However, non-Android fans will be out of luck, and you do have to deal with gifted card rewards every step of the way. If that is a problem, MyPoints can be a close second. Swagbucks loses out simply because some of its games cost money to play, and MyPoints doesn't have that same problem.