Nov. 9, 2021
Broadcasting Rights: what are them and how do they work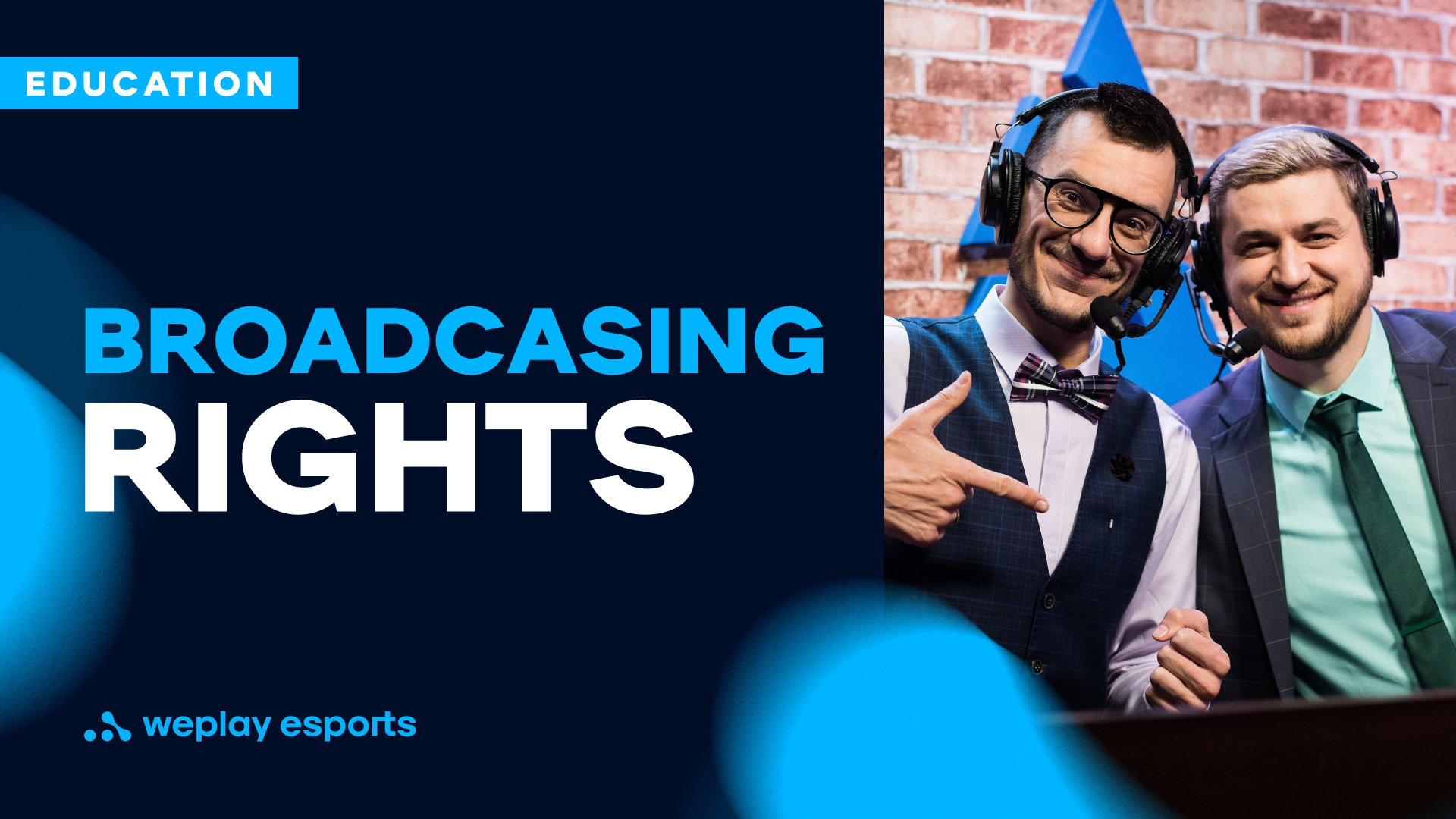 "Broadcasting rights" is the term for the media rights to an intellectual property object sold to a particular broadcasting company.
Watching sports has long been an international pastime — from the Roman Colosseum to the modern-day Olympics. One of the easiest ways for people to watch these major sporting events is through different channels and streaming services. They let people watch sporting events regardless of where they live.
After all, if you live across the country from your favorite football team, being able to tune in to the right channel is super important. But, of course, you can only do that knowing your favorite team/sports broadcasting and media rights.
What are broadcasting rights?
"Broadcasting rights" is the term for the media rights to an intellectual property object sold to a particular broadcasting company. Basically, if a company wants the media rights to a sports organization or a competitive video game, they contact the distributing organization. Then, they make a contract with them to have limited broadcasting rights or broadcasting exclusivity for a specific sport or sports organization.
Broadcasting rights sales help finance major sporting events
In traditional sports like football, media and broadcasting rights play a big role in clubs' and organizations' earnings. They're responsible for a large part of the club's income, and how those rights are used and distributed is usually defined in each club license agreement.
Exclusive rights are becoming less popular, due to the expansion of online broadcasts. The UEFA Champions League, for instance, had some matchups broadcast live on Facebook, gathering millions of people.
However, each broadcast contract has its own specifics.
What is a broadcast contract?
Navigating contracts can be tricky because not all broadcasting contracts look the same. Some outlets just have distributors share media rights with them, so they can air whatever sport might get them views. However, exclusive media rights are rather more expensive and make the contract a little more complex. After all, the original distributor will want sizeable benefits for giving away their media rights to only one company or entity. It limits their outreach, so they need proper compensation for concentrating the broadcasting of the product in one set of hands. So, the contract will be different depending on how simple or complex the situation is.
Sports broadcasting rights
Some of the most well-known and fought-over rights are those of sports. This is because watching sports has become so commonplace in our society, no matter what the sport is. These different popular sports organizations have unique situations that help show just how complicated broadcasting rights can be.
National Basketball Association (NBA)
Since early 2016, the NBA has been in partnership with ESPN and Turner Sports. The deal was a nine-year, $24 billion bid for the sport's media rights. Furthermore, once the 2016-2017 sports season began, ESPN and Turner Sports also committed to paying an annual $2.6 billion to the NBA.
During the 2019-2020 season, the entire NBA earned 7.89 billion in revenue, so ESPN knows the kind of money that the basketball industry attracts.
National Football League (NFL)
For TV, cable, and digital platform broadcasting, the NFL has contracted five popular, well-known media partners: Amazon, CBS, ESPN/ABC, Fox, and NBC. On these major networks, the NFL has a wide range of exposure to its fans. Moreover, these NFL deals extend far beyond the 2021 season. The newer, upcoming drafts of their broadcasting deals have the NFL partnered with these networks from 2023 through 2033.
The football industry is an effective money-making machine, making billions of dollars each year, so these companies have good reason to want a slice.
Major League Baseball (MLB)
America's favorite pastime took its broadcasting dealings to where dreams come true, partnering with Disney and ESPN for media rights.
This contract is a domestic broadcast partnership, meaning Disney and ESPN have central control over airing MLB events, but only in the US. It makes sense that they would only focus on the US because the domestic media market for MLB eclipses international interest.
This deal goes from 2021 to 2028, with an impressive payout of $550 million per year.
National Hockey League (NHL)
The NHL has made its own, unique broadcasting deals with ESPN, Turner Sports, and ABC. The plan is to have twenty-five regular-season games airing on ESPN and ABC. Meanwhile, 75 more games will stream through ESPN+ and Hulu. As far as Turner goes, they have rights to air 72- regular-season games.
More changes include streaming changes. Before, the NHL streamed a lot of their content on NHL.TV. However, a new deal has put the old site to rest and moved all content to ESPN+.
European football league games
The broadcasting and media rights in European football is an important asset in the entertainment world. From television stations to Amazon Prime Video, broadcasters compete to gather attention and provide the most immersive and wholesome experience in that subject.
Entrepreneurial efforts from broadcasting organizations are always commendable. Generally, televising sporting events recognize the major importance of competition in this subject. In the sports industry, TV rights play a big part in helping to finance major sporting events, but radio stations, for instance, are also an important asset.
In the broadcasting and media rights landscape about European Football, the most significant player is the English Premier League, but other leagues have their charm.
Premier League
Even though soccer isn't exactly as popular in the states as it is around the rest of the world, there are still options for British and US viewers to watch the renowned English Premier League games. After all, soccer events are insanely popular, given that the 2018 World Cup saw 516.6 million viewers compared to the Superbowl's 103.4 million.
So much revenue has to be held by firm hands of the law. The Premier League's constitution has the control on the ownership of the rights, and changes must be approved by two-thirds of the clubs.
In May 2021, the Premier League clubs agreed to renew their 3-year-deal to air and stream on Sky Sports, BT Sports, BBC, and Amazon Prime Video.
Esports Broadcasting Rights
When it comes to esports, the fight for media rights is fresher and a bit more unique. For one, esports didn't do the long transition from black-and-white TV to ESPN to streaming and beyond. Esports being so new puts them in a unique place to shop their different options, commit to traditional broadcasters or streaming services, and shape the future of esports. However, the stigma against esports is still a problem. Esports have to fight against mainstream stereotypes and prove the worth of esports as an industry; the kind of industry where media rights are worth good money.
However, here, the opposite happens: broadcasting organizations recognize the efforts of the television, and in some countries, esports leagues are transmitted on TV. Some companies hold exclusive rights on the most popular esports, though, such as the League Championship Series (LCS), always done by Riot Games in different media streams.
There have been some success stories, therefore, that prove the potential for esports' streaming rights.
For example, in 2020, YouTube gained exclusive media rights to Call of Duty and Overwatch Leagues from Activision Blizzard. Before that, though, Twitch paid a whopping $90 million to stream the first two seasons of Overwatch League.
Similarly, CSGO's ESL and DreamHack made a deal with Blake Broadcasting to air their esports tournaments across the globe. This includes the US, Canada, and Asia (but excluding China).
The growth of esports is impressive and always making its mark on the sports broadcasting world. After all, Newzoo has reported that they estimate that esports media rights will grow from $100 million to closer to $400 million by the end of 2021. Even if they are overshooting their estimate, esports media rights are the fastest stream of revenue in esports and, along with brand deals, contribute to esports' rapid growth as an industry.