June 2, 2022
WePlay Holding, FPS Center, and AMD have opened a Day Center for Ukrainians in Poland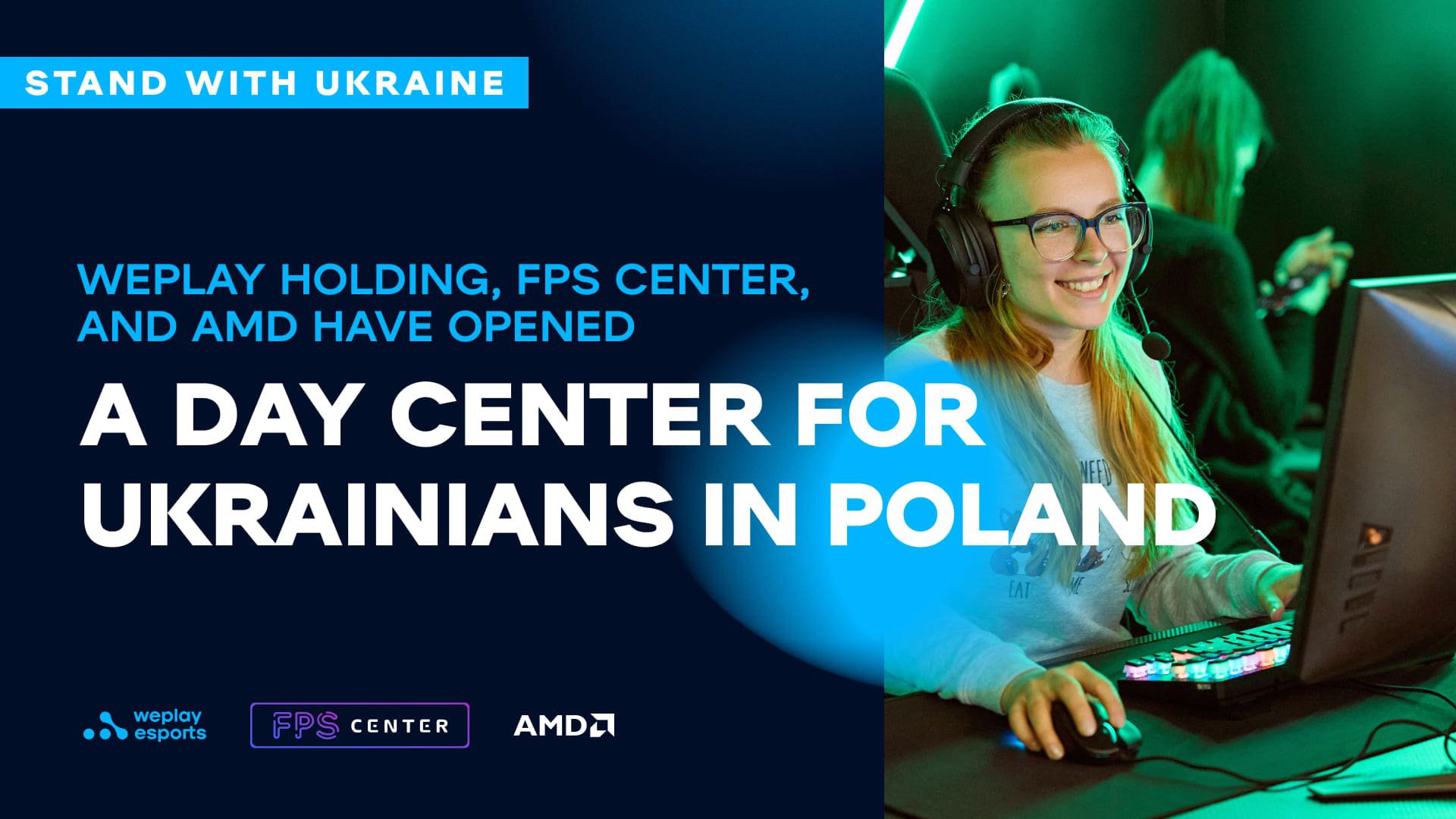 As of April 2022, there were about one million Ukrainian children in Poland who left Ukraine because of the war.
To help them adapt to the new country and reduce stress levels, Warsaw-based FPS Center, with the support of WePlay Holding, AMD, Actina, SENET, MyFace, and InstaLing, has launched the Day Center by AMD project.
Throughout all of June, Ukrainian kids can use computer stations equipped with high-quality software, participate in esports competitions and workshops, learn Polish, and, of course, play their favorite games — all free of charge.
The project has been implemented under the auspices of the Embassy of Ukraine in the Republic of Poland and the Crisis Coordination Center at the Embassy of Ukraine in the Republic of Poland.
"This is yet another opportunity, especially for a teenager, to integrate and socialize with their peers in the host country. In an informal setting and a playful atmosphere, it is sometimes easier to meet new people, especially when it comes to common interests. We would like to point out that FPS Center also provides free volunteer assistance, printing, completing, and translating necessary documents for temporarily displaced Ukrainians. This is a good example for the younger generation — to help wherever you are, using your skills for a good cause. It is also a good opportunity to come back from the virtual world in time because you can be so much more useful in the real world, and for someone in need — become a real superhero," says Maksym Muzychko, first secretary of the Embassy of Ukraine in Poland.
The project aims to help children and grown-ups alike. Ukrainians who find themselves in Poland because of the war can always come to the center with issues that necessitate a computer. These may be finding a job or accommodation, filling out and submitting requests to local authorities, printing or scanning documents, etc. The coordinators will be happy to help you contact the owner of an apartment or an employer, to act as a translator. The organizers have anticipated the need to help the guests with communication, so the center has a Ukrainian-speaking administrator.
"The idea was born out of talks and meetings with our Ukrainian colleagues who told us about the difficulties faced by people coming to Poland after the outbreak of the war. We also wanted to prove that a gaming club can have a new function — allowing not only entertainment, but also education, work, and other necessary official matters," said Marcin Chechot, FPS Center founder.
The Day Center by AMD officially opened its doors on June 1 — a symbolic date, the International Children's Day. The first guests — children, teenagers, and their parents — could compete in heated online battles, use a computer to solve bureaucratic issues, have a snack, make new friends, and talk about exciting things with other like-minded youngsters.
"I really liked everything: the atmosphere, the club interior, the computers. Everything is organized at the highest level. I came with my family to Poland from Zaporizhia two months ago. We had to leave my computer at home, and this is the first time I've had the opportunity to play CS:GO. In addition, everyone speaks a language you understand, so it's pretty easy to make friends," said Maksym, 13, sharing his impressions of the center opening.
Day Center by AMD is equipped with 21 world-class computer stations, 360 Hz monitors, RTX3090 graphics cards, Intel Core i9 processors, and cameras with special lighting. In addition, the club has racing simulators, as well as several PlayStation 5. Each guest gets a two-hour session, which can be booked through the website www.fpscenter.pl/ua to skip the line.
"We do hope Ukrainian youth will feel a bit better after visiting this center and spending time with people who are in the same situation as them. Common interests unite people, just like computer games. Therefore, we took up the initiative with great enthusiasm since lots of Ukrainian children are fond of esports. It's great that now, they have a place in Poland where they can mingle with like-minded people and get to know the community while their parents have a fantastic opportunity to spend time with their kids and find out more about their hobbies.
Sure, nothing feels like home except home. But such projects as the Day Center by AMD help a lot," shared Alena Dalskaya-Latosiewicz, chief communications officer at WePlay Holding and project lead from the WePlay Holding side.
Day Center by AMD is open every day until June 30 from 10 a.m. to 6 p.m. at the following address: Warsaw, Galeria Ursynow / 1st floor, Al. KEN, 36.