April 12, 2022
Help during war: services that waived their fees for Ukrainians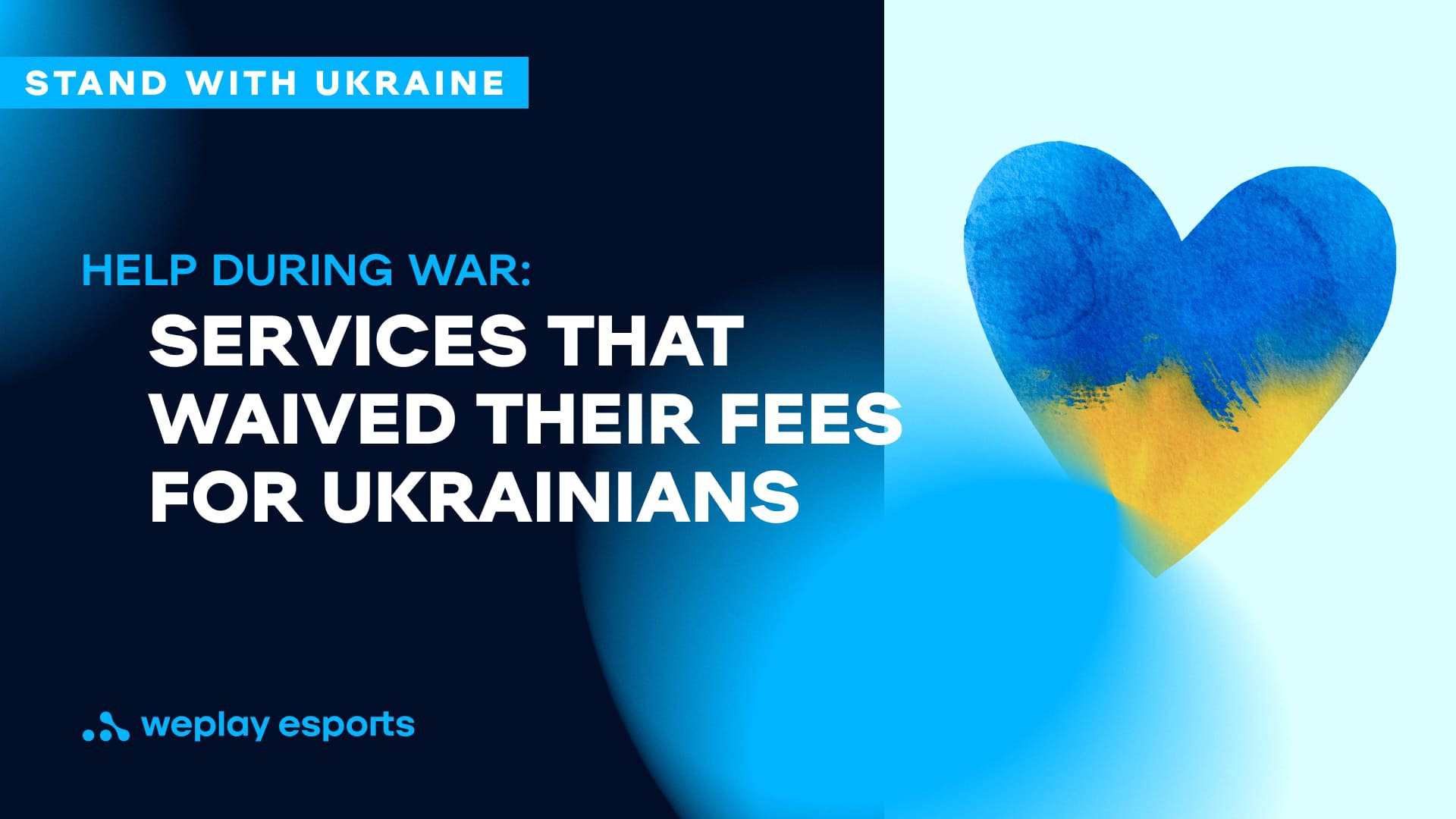 Services that showed their support for Ukraine by providing free access or other privileges.
Since the beginning of the full-scale war in Ukraine, many domestic and international companies have expressed their support for Ukrainians. In particular, Ukrposhta now lets you send "packages from home" abroad with a 70% discount, global media have provided the opportunity to read features without paying for a subscription, while in the Helsi app, free online consultations with doctors are now available. A number of corporate services used by WePlay Holding employees have also become free of charge. We express our sincere thanks to all those supporting the citizens of our nation and Ukrainian businesses in this difficult time.
Services helping WePlay Holding
Cloud human resource management service BambooHR has granted WePlay Holding free access. Performance management service Lattice waived the monthly fee for the period from April to June.
Muck Rack, a platform for journalists and PR professionals, has become available free of charge for the next three months.
"As we witness Russia's brute attack on Ukraine, offering free access to Muck Rack is the least we can do to support our customers living and working in the region during this tragic time," said Matthew Darling, vice president of sales at Muck Rack.
Slack, Miro, Figma, and Atlassian are also available to WePlay Holding employees at no cost.
Resources for all Ukrainians
During the war, it's more important than ever to stay in touch with family and friends. Mobile operators have optimized their mobile Internet services and calls within Ukraine and abroad.
Kyivstar provides Ukrainians with UAH 250 for roaming services, as well as the limited-speed Home Internet service, which works even without top-ups in areas where active combat is taking place.
Vodafone offers 100 or 200 MB (for business customers) of Internet roaming free of charge, and together with the State Emergency Service launched DSNS UKR — a service informing subscribers about emergencies via text messages.
Lifecell gives all users 60 minutes' call time to any numbers in Ukraine and 2 GB for instant messenger use per day, as well as 5 GB of Internet roaming.
Polish mobile operators Plus, T-Mobile, Play, and Orange offer Ukrainians privileges such as unlimited call time to Ukraine, gigabytes of Internet, calls, and SMS in Poland for a certain period of time.
Skype allows to make free calls to or from Ukraine from any platform, and Zoom has opened premium access for Ukrainians for an unlimited period of time.
Ukrainian publishing houses now provide access to e-books free of charge or for as little as UAH 1. A number of book publishers have joined the initiative.
A-BA-BA-HA-LA-MA-HA
Bohdan
Babylon Library
21-Publishers
Anetta Antonenko Publishers
Old Lion Publishing House
UCU Publishing House
Vikhola
Discursus
Chimeras House
Irbis Comics
Kalamar
#KNYGOLOVE
Nora-Druk
Nika-Centre
Ranok
Summit-Book
Bonnier Books UK
IPIO
Meridian Czernowitz
Snowdrop publishing
Vivat
Yakaboo Publishing
Zalizniy Tato
Smoloskyp
FABULA
Folio
"We have enabled access to e-books for kids and teenagers so Ukrainians could access Ukrainian books from anywhere in the world," #KNYGOLOVE wrote on its Instagram page.
In addition to e-books, audiobooks were also made available. The Yakaboo online store has opened access to all audiobooks hosted on its platform. The youngest Ukrainians can listen to fairy tales thanks to the initiative of the ABUK audiobook store, which offers children's audiobooks at no cost.
Ukrainian company MacPaw has granted access to its product ClearVPN — a cross-platform VPN service available for macOS, iOS, Android, and Windows. The service is provided to users from Ukraine automatically.
"MacPaw joined the fight against the aggressor like many Ukrainian citizens all over the country. For example, MacPaw engineers developed Together App, an app for Slack where companies can organize daily check-ins for their teams to ensure that everyone is in a safe place. MacPaw Technological R&D team released SpyBuster, a new macOS app that helps secure personal data from Russian cyber threats. Journalists who cover the Russian invasion into Ukraine can get a free year of CleanMyMac X. We also provided free access to MacPaw's VPN Service ClearVPN for all Ukrainians to help secure their online experience. MacPaw provides humanitarian aid to Ukrainians in war zones through the MacPaw Development Fund. The Fund will purchase medicine, food supplies, and other critical essentials abroad and deliver them directly to people in Ukraine," said Yulia Petryk, PR lead at MacPaw.
The initiative to provide free access to VPN services was also supported by Bitdefender, VPN Unlimited, and HotspotShield VPN.
Global media have made access to their materials free for Ukrainians. The publications that did so include The Washington Post, The Wall Street Journal, The Economist, Dow Jones, and The New York Times. Also, reports about Ukraine are now free to read in the Financial Times.
Thanks to online platforms, Ukrainians can join training courses, including language learning. Busuu offers 90 days of free Premium subscriptions to learn the 12 available languages, LingQ — 24 languages. Similar services include Drops, Duolingo, Ling App.
Coursera for Campus, an online learning platform with more than 5,200 courses and 2,200 projects in various fields of study, is now freely available to all Ukrainian educational institutions and students.
"We are devastated and outraged by Russia's invasion of Ukraine. We stand with Ukraine and our ultimate concern is for the safety of the people in that region. Coursera believes learning is the source of human progress and we are committed to ensuring learners everywhere have access to the highest quality education However, we will not support the financial or reputational benefit of Russian instructors or institutions on Coursera while this tragedy is taking place, nor will we look to profit from doing business in the region amid this humanitarian crisis. As a result, we are suspending all business in Russia," Coursera said in a statement on their website.

The EdX interactive learning platform, founded by the Massachusetts Institute of Technology and Harvard University, has also stopped cooperating with Russian universities. Currently, the Ukrainian Ministry of Education and EdX are working to provide free access to more than 1,600 online courses and programs from the world's leading institutions and companies on the EdX Online Campus.
Services and medical institutions that will help you take care of your health:
Psychological support: Teplo, VOS apps.
Doctors' consultations: Helsi app, doctoronline.care, likar.support, international platforms Viveo Health, Dimedic, HaloDoctor.pl. In the Glovo application, you can find the phone numbers of doctors, book an online appointment, or order medication from a pharmacy.
Free yoga and meditation apps: BetterMe, Mental Health, Down Dog.
Nova Poshta allows military personnel or those affected by the war to send or receive packages free of charge. Offices and parcel terminals are functioning.
Ukrposhta has resumed delivery of online store orders, and also delivers "packages from home" with a 70% discount to Ukrainians who evacuated to the neighboring countries.
"We understand that many Ukrainians who have had to flee the country in two weeks to escape the war have found themselves in a tough situation. Many left without essentials, without even a set of spare clothes. For these people, a parcel containing things from home, or simply those bought and sent from Ukraine, will be a signal that their home, their normal life is not that far away. They only have to wait a bit, and then it will be possible to come back home," Ukrposhta Director General Ihor Smilyansky said in a statement.
The list of services for watching news, movies, and listening to music during the war.
Media service MEGOGO has banned access to its services in Russia, while in Ukraine, you can now watch Ukrainian channels, movies, TV series, audio fairy tales, and cartoons for free.
Vodafone TV, Sweet TV, and Kyivstar TV made access to the most popular TV channels, children's, and educational content free of charge.